Typically there are some degree of automation within a warehouse. For examples, pallets and product move on a system of automated conveyors, cranes and automated storage and retrieval systems (ARSR) coordinated by programmable logic controllers and computers running logistics automation software.
For a warehouse to function efficiently, the facility must be properly slotted. Slotting addresses which storage medium a product is picked from (pallet rack or carton flow), and how they are picked (pick-to-light (PTL), pick-to-voice (PTV), or pick-to-paper (PTP)). With a proper slotting plan, a warehouse can improve its inventory rotation requirements?such as first in, first out (FIFO) and last in, first out (LIFO)?control labor costs and increase productivity.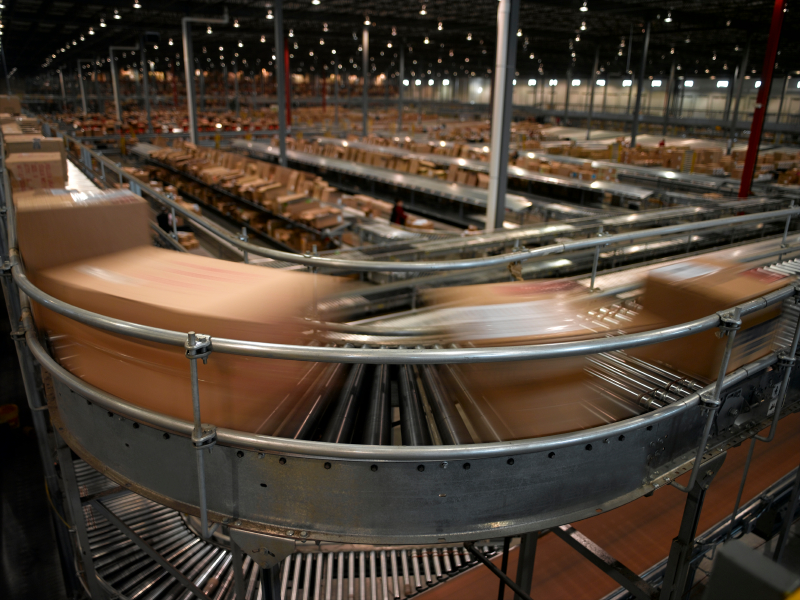 Our extended automation software enables integration with the following types of fixed machinery automation equipment:
Robot – e.g. palletizing robots, are used for palletizing, depalletizing, packaging, commissioning and order picking robots.
Conveyor – automated conveyors allow the input of containers in one area of the warehouse, and either through hard coded rules or data input allow destination selection. The container will later appear at the selected destination.
Sortation – similar to conveyors but typically have higher capacity and can divert containers more quickly. Typically used to distribute high volumes of small cartons to a large set of locations
ARSR – These can be thought of as large scale vending machines, giving the same easy access to physical objects as we have become accustomed to with respect to data.
Typically all of these will automatically identify and track containers or products based upon barcode, or increasingly, RFID tags.
In addition, our technology can integrate with most type of warehouse data collection equipment such as:
RF
RFID
Pick to Voice
Pick to Light
Benefits
A typical warehouse or distribution center will receive stock of a variety of products from suppliers and manufacturers and store these until the receipt of orders from customers, whether individual buyers (e.g. ecommerce), retail branches (e.g. chain stores), or other companies (e.g. wholesalers). A logistics automation system may provide the following:
Automated goods in processes: Incoming goods can be marked with barcodes and the automation system notified of the expected stock. On arrival, the goods can be scanned and thereby identified, and taken via conveyors, sortation systems, and automated cranes into an automatically assigned storage location.
Automated Goods Retrieval for Orders: On receipt of orders, the automation system is able to immediately locate goods and retrieve them to a pickface location or the order pickers.
Automated despatch processing: Combining knowledge of all orders placed at the warehouse the automation system can assign picked goods into despatch units and then into outbound loads. Sortation systems and conveyors can then move these onto the outgoing trailers.
If needed, repackaging to ensure proper protection for further distribution or to change the package format for specific retailers/customers.
A complete warehouse automation system can drastically reduce the workforce required to run a facility, with human input required only for a few tasks, such as picking units of product from a bulk packed case. Even here, assistance can be provided with equipment such as pick-to-light units. Smaller systems may only be required to handle part of the process.